DGT Easy+ Game Timer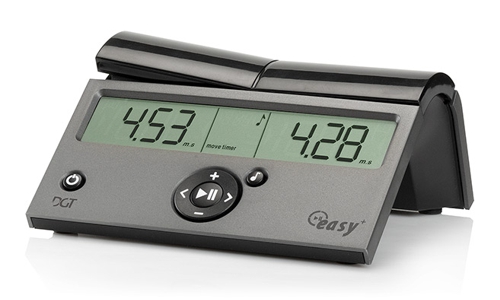 The DGT Easy Plus is the choice of former world chess champion Vladimir Kramnik. It extends the features of the DGT Easy to include an incremental clock feature so you can add time on each move.
* Kramnik's choice universal game timer!
* Move timer & game timer.
* Delay & bonus modes so you can optional add time after each move.
* Manual programming for all timing methods.
* Ideally suited for chess clubs, schools and home use.
The DGT Easy+ combines high quality with absolute simplicity and a sturdy and elegant design.
Easy to program and easy to use, it features handy front buttons, game timer count-up option, simple one-touch reset, large and clear display, low battery indicator and optional buzzer. Individual time settings are possible for each player.
The DGT Easy+ comes in a nice gift box. AA (Penlight) batteries are included to give approximately 2 years of operation.