DGT 1002 Game Timer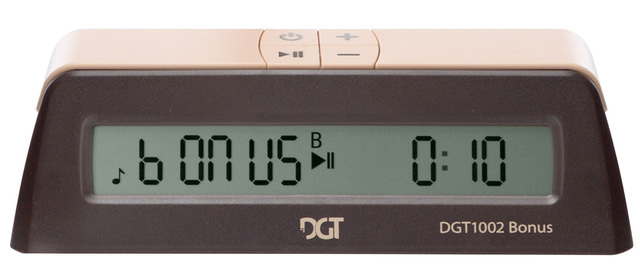 This ultra-portable new timer has a great price, is very easy to program and extends the popular DGT 1001 with a bonus time feature.

Perfect for Scrabble too!
The DGT1002 is the simplest chess clock with bonus options available anywhere. Simply press + or - to set the times and the game can begin! Easy to understand and fun to use!
It operates on one battery (included) and comes with a 2 year warranty.
A great little affordable chess clock with large display and clear digits - perfect simplicity of design and operation.
Use the DGT1002 with increments and never run out of time!
The DGT 1002 Game Timer features a count down and count up timer and can be set between 1 second and 9 hours and 30 minutes for each game. The DGT 1002 also features sound which can be turned on or off to mark the end of one players time.
The DGT 1002 Game Timer is much smaller than the other clocks in the DGT range which makes it ideal for a school desk or when space is it a premium.
The DGT 1002 clock switches from one player to the other player when one of the two levers is pressed. For the price conscious buyer, this is the perfect clock for schools and private use who want a bonus time feature.
Includes Battery and User Manual
No good for Scrabble

Although this clock is fairly easy to use, it does not count any time after the set time is up. For Scrabble you need the time taken over the game time. So advertising it is suitable for Scrabblers is misleading! Also very disappointed they are not returning my calls re this problem!!!