Chess Badges Club Starter Pack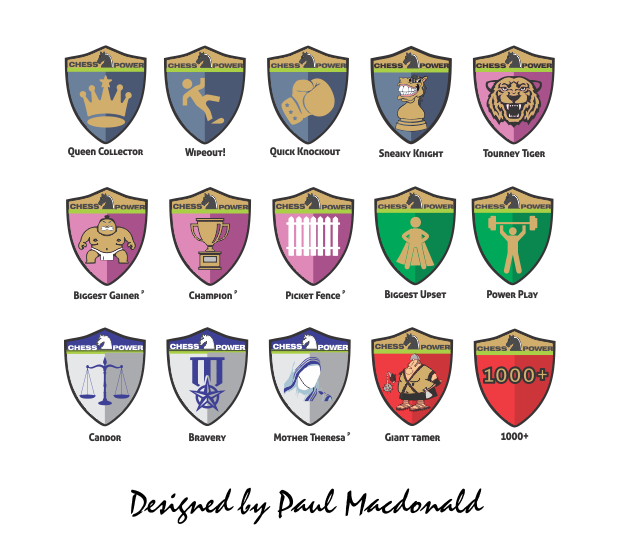 The Chess Power Badge System™ recognises and rewards achievement in Chess. This starter pack includes sets of all 18 recommend chess badges that you can use in your chess club.
The Chess Badges Club Pack contains the full assortment of chess badges to recognise and reward your students in your Chess club. The pack should be sufficient for your students for a year.
5 Soul Survivor badges
10 x Pawn Power badges
10 x Sneaky Knight badges
10 x Quick Knockout badges
10 x Brave Bishop badges
3 x Fastest Draw badges
3 x Chess Tower Hero badges
3 x Biggest Gainer badges
3 x Champion Badges
2 x Picket Fence Badges
3 x Bigger Upset Badges
3 x Power Play badges
3 x Candor badges
3 x Bravery badges
3 x Mother Theresa badges
3 x Respect badges
3 x Gratitude badges
3 x Giant Tamer badges
3 x 1000+ badges
Each badge is made from high quality metal enamel - the kids absolutely love collecting them!
The Chess Badges Club Pack comes with
a small compact carry case so all the badges are kept in separate compartments nice and safe and easy to find the right badge to give out to students.
an A4-size badge poster (see below) showing how each badge is obtained
A total of 86 badges in all this is great value.