The Amazing Chess Adventures of Baron Munchausen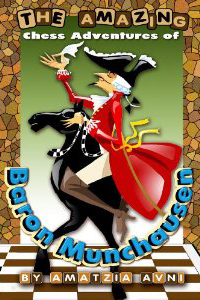 This book presents a series of extraordinary chess tales, describing Munchausen's captivating chess adventures, as told by the great Baron to Amatzia Avni, his diligent biographer.
Prepare to be amazed as the Baron engages in chess battles with a range of extraordinary creatures and characters, some of them -- quite literally -- out of this
world!
The reader will accompany Munchausen to Heaven and to Hell; watch him play on a full board and on half a board; in simultaneous exhibitions, Internet and live chess; battling on land, sea and in the air; outsmarting a Cyclops; conversing with a talking horse and much more.
By inspiring the readers imagination with fantastical stories, the author delights with wonderful chess puzzles and problems that equal the amazing stories that surround them.