Giant Chess Set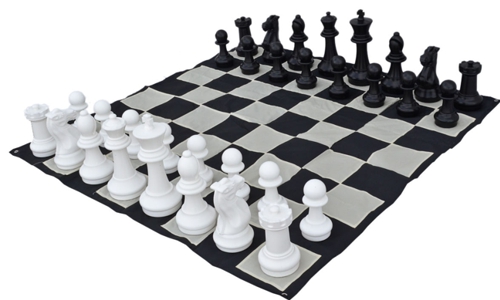 Our Giant Chess Sets are a fun and exciting way to play chess and offer the perfect form of entertainment for entertaining kids and even teaching people to play chess.
Our impressive and practical giant chess sets are one of our most popular product ranges. German designed and manufactured in tough UV stabilized injection moulded plastic pieces for long lasting outdoor and indoor use. These sets are perfect for schools for their lasting strength and durability.
This Chess Set will stand out as a visual spectacle at your school, work-place or home. The tallest chess piece, the King, stands a full 63cm tall.

The chess pieces are easy to move around because they are lightweight but they can also be easily weighted by unscrewing the top piece from the 25cm wide base to fill them with water or sand. This chess set withstands the outdoor elements very well and will retain its color in the sun.
Giant Chess Mat sold separately