How to Become a Deadly Chess Tactician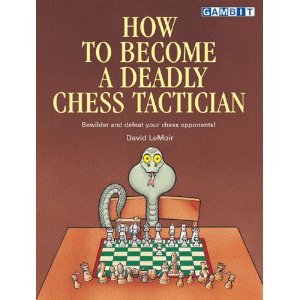 Some chess-players always seem to have a trick up their sleeve. They spot unlikely-looking tactical tricks, launch cunning attacks from seemingly quiet positions and are unrelenting when the enemy king is in their sights. Even when things go wrong, they create practical chances and repeatedly finesse their way out of trouble.
LeMoir shows that the key factors in becoming a deadly tactician are motivation, imagination, and calculation. Motivation is having the willingness to sacrifice and consider tactical ideas during play. Imagination is being aware of tactical concepts that lead to ideas which other players might miss. Calculation is being able to analyse and calculate effectively.
This user-friendly and humorous book contains many outstanding examples of seized opportunities, together with guidance on how to spot surprising tactics and handle positions of material imbalance. Thoughout, there are exercises for readers to tackle.