Magnetic Chess + Checkers Set with Black White pieces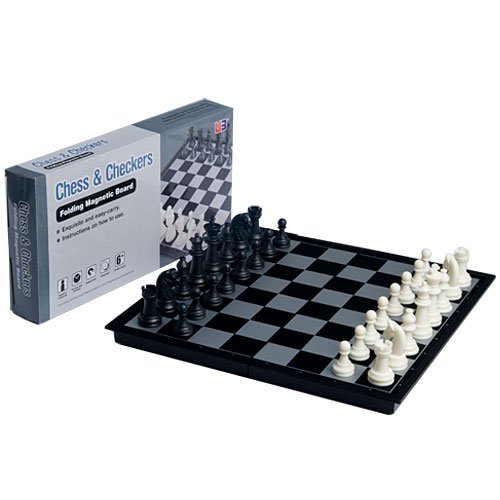 High-Quality Magnetic chess and checkers set with Black+White chess pieces made from a high-quality plastic mold, this travel set will be sure to please. Perfect for playing whilst on a road trip, at a camping site or even on the plane. Take it overseas so you can play in the evenings or on rainy days. The 3 dimensional pieces stay put with magnetic bases that keep them firmly planted on the board no matter where you travel. All of the pieces are very visible and easy to play with.
The magnetic travel chess and checkers set is a fun little set that has a snap-closed plastic box to keep your pieces safe with plastic hinges that opens up to a flat board. The set comes with a cardboard box for easy storage when not in use.
Chess piece materials: Plastic ABS+magnet with felts on the base of each piece.
Chess board box materials: Plastic ABS+metal slip
This product comes in two sizes:
Portable Size
The size of chess pieces:
King tall 50mm with 16mm base
Queen tall 45mm with 16mm base
Rook tall 30mm with 16mm base
Knight tall 31mm with 16mm base
Bishop tall 39mm with 16mm base
Pawn tall 25mm with 14mm base
Checkers pieces: 21mm in diameter, Sit 4mm tall
Board Dimensions: 234mm X 234mm with 28mm X 28mm square
247mm X 124mm X 39mm box closed
Weight: 435grams/set
Medium Size
The size of chess pieces:
King tall 68mm with 25mm base
Queen tall 60mm with 25mm base
Rook tall 39mm with 25mm base
Knight tall 45mm with 25mm base
Bishop tall 45mm with 25mm base
Pawn tall 34mm with 21mm base
Checkers piece: 21mm in diameter, Sit 4mm tall
Board Dimensions: 305mm X 305mm with 35mm X 35mm square
318mmX160mmX39mm box closed
Weight: 785grams/set